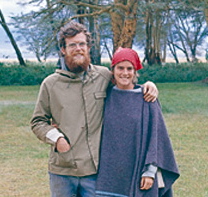 I chose to compare Amy Vedder to none other than her very own husband, Bill Weber.  Since they worked together their whole lives, wrote a book together, and founded the Mountain Gorilla Project together, I thought it would be interesting to see how they individually received credit for these accomplishments.
Amy Vedder and Bill Weber grew up together.  They went to the same college, and both volunteered with the U.S. Peace Corps right after graduation.  They studied in the same African environment, the only difference being their focus.  Amy focused on habitat and lifestyle of gorillas that led to their endangerment in Africa, while Bill focused more on the social and economic styles of the Rwandan people that influenced the extinction of the gorillas.
I do not think that gender influenced either of these scientists.  They received the same education, had the same experiences in the Peace Corps, and were both recognized for the accomplishments in the same manner.